About Us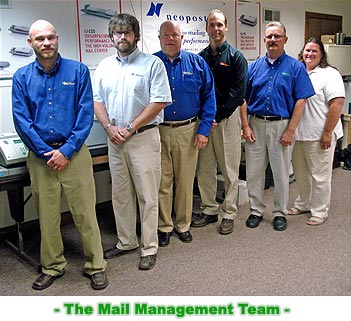 Mail Management recently celebrated its twentieth anniversary on April 1, 2008.
Throughout its twenty year history, Mail Management has maintained strong ties to the area through work in community activities, clubs, and organizations. Mail Management is also a long-standing member of the local Postal Customer Council working with the United States Postal Service.
The company started business with two employees, and now maintains 7 employees dedicated to provide customers with excellent service.
Mail Management represents Neopost, the number one producer of document handling equipment (folder inserters) in the world AND the number one producer of mailroom equipment in Europe and the second largest in the world. Neopost invented the first electronic postage meter, postage scale, and shipping system. This 80 plus year old company has continued to be an innovator in the mailing and shipping industry.